March 2016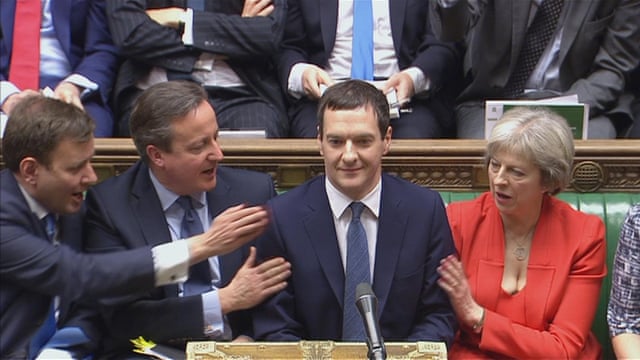 In his budget speech, George Osborne announced that all remaining local authority schools in England must become academies by 2022.  The government will 'take on radical new powers' to ensure that this is achieved.  The Education and Adoption Bill, which completed its passage through parliament last month, will compel councils and school governors to co-operate in the forced academisation of eligible schools; remove any requirement for consultation with parents, governors, or local authorities; and allow the education secretary to control the make-up of the 'interim executive boards' that oversee a school's conversion into an academy.  An amendment tabled by Labour peers, requiring parents and others to be consulted on academy conversions, was defeated by Conservative MPs.
There are still a few loopholes to be closed, however. One is the recommendation, set out in the model academy articles of association published by the Department for Education in 2013, that all multi-academy trusts (MATs) should have two elected parent trustees or representatives, either on the board of the MAT or on each school's governing body. The white paper Educational Excellence Everywhere makes clear that this prescription is to be dropped. School governance will be streamlined and professionalised, with scope for payment to 'attract the very best people': 'as we move towards a system where every school is an academy, fully skills-based governance will become the norm'.
The minister responsible for school governance is Lord Nash, the parliamentary under-secretary of state for schools.  He has strong views on the need to reform governance arrangements, and is himself an exemplar of 'skills-based' governance.  He and his wife Caroline, a former stockbroker, have their own multi-academy trust, Future Academies, which runs a small chain of schools in Westminster.  The Future Academies board consists of seven members, including Lord and Lady Nash.  There are no parent trustees.  The couple are also co-chairs of the board of governors of Pimlico Academy, the chain's 'flagship' school.  Of the five other governors, three are also directors of the Future Academies board; there is only one parent governor.  In 2013, Nash told the Independent Academies Association:
Personally, I'm not keen on big governing bodies.  Lord Adonis asked me if he could cite Pimlico in his book because with 7 governors we apparently had the smallest governing body in the country. This surprised me greatly as coming from the business world it would by no means be regarded as a small board of directors.
Nash feels that governance has to move beyond the representation of 'particular interest groups' – parents and teachers – in order to draw on the 'widest possible pool of talent'.  After all:  'Running a school is in many ways like running a business, so we need more business people coming forward to become governors'.
Business people are already well represented on the boards of the main MATs – or 'system leader trusts', as they are now known.  The biggest chain is the Academies Enterprise Trust, which controls 66 schools.  Its board is headed by Jude Chin, a former KPMG man with thirty years of experience 'advising on mergers, acquisitions, and stock exchange listings'.  The board of the Kemnal Academies Trust (41 schools) is led by a former college principal;  but the vice-chair, Aruna Mehta, was once a managing director at JP Morgan Chase, and another trustee, Ian Armitage, is 'an experienced venture capitalist and private equity investor'.
The board of REAch2, which runs 50 primary schools, is chaired by Peter Little, an 'active investor' whose career has been dedicated to 'the creation and subsequent realisation of shareholder value'.  To quote from Little's profile on the Reach2 website:
A particular focus on financial technology has seen leadership roles and subsequent exits in Braid (acquired in 1999 by Mercator and then IBM); Whitaker Garnier, providing a hedge fund CRM system acquired in 2006 by Pertrac in the US; City Networks, acquired by Broadridge (NYSE:BR) in 2010; Singularity, acquired by Kofax (NYSE:KFX) in 2011; Investmaster, acquired by Dion in 2012; and Cadis Software, acquired by Markit in 2012.
                            Marketing for REAch2, a chain of primary schools
The boards of other MATs present a similar picture.  Ark Schools, which runs 35 academies, has eight trustees; five of them are hedge fund managers, and none has any background in education.  The Inspiration Trust runs 14 schools in Norfolk and Suffolk.  Its board is led by Sir Theodore Agnew, another financier – his background is in 'business process outsourcing'  – who until recently chaired the DfE's Academies Board.
Other directors of the Inspiration Trust include David Tibble, a long-time business associate of Agnew's — they are partners in the same private equity firm, Somerton Capital — and Julian Hanson-Smith, an 'entrepreneur and private equity investor'.
Lord Nash also comes from the world of private equity.  He is a former chairman of the British Venture Capital Association, and a co-founder of Sovereign Capital, a private equity firm with interests in education and healthcare.  In 2010, he was appointed to the DfE's board of non-executive directors (Theodore Agnew joined the board at the same time).  Ennobled in 2013, Nash stepped down as chairman of Sovereign Capital, and became a minister.  He and his wife are generous donors to the Conservative Party, having given nearly £300,000 since 2006.
A third of Sovereign Capital's investments are in the education and training sector.  In 2002, the firm acquired the Alpha Plus Group, 'one of the UK's most prestigious private education providers'.  Over five years – the typical investment period of a private equity firm – Sovereign's management team 'increased pupil numbers by 44 per cent … and expanded pupil capacity by 1100 places'.  Alpha Plus was then sold to Delancey Real Estate Asset Management, in a deal reportedly worth around £120 million.

          Marketing for the Falcons School for Girls, operated by the Alpha Plus Group
In 2008, Sovereign steered through a management buy-out of the World Class Learning Group, a firm running international schools.  In 2013, after 'strong organic and acquisitive growth', the WCL Group was sold to Nord Anglia Education ('The exit returns a multiple of 5.3x money invested and represents a 70 per cent IRR').
Sovereign is currently investing in Paragon, a work-based training provider which will receive more than £17 million from the government's Skills Funding Agency this year, and the Astrum Education Group, which runs a number of private sixth form colleges.
Sovereign are particularly bullish about Astrum's prospects: 'There are many opportunities for growth which include: establishing new schools across the country [and] expanding into primary and secondary provision'. As the head of Sovereign's education team told an audience of investors last year, education is proving a 'tremendous sector' for high-return investment firms:  'Let's all go forth.  Let's all make hay.'