First published by the Local Schools Network, August 2016
                                 Headquarters of K12 Inc., in Herndon, Virginia
Since 2010, a number of big edu-businesses have entered the market created by New Labour's academies programme — a market which has, of course, developed rapidly under the Coalition and the present government.  Some of these big firms are American, like Mosaica Education or K12 Inc.  The latter has been one of the more controversial players in the ongoing privatisation of the US public schools system.  This article tells the story of K12 Inc.'s venture into the emerging English schools market.
From junk bonds to virtual schools
K12 Inc. is a 'technology-based education company'.  It was founded in 2000 by Ron Packard and William Bennett, a right-wing talk radio host who served as education secretary under Ronald Reagan.  The company was started with help from Michael Milken, the 'junk bond king' of the 1980s, whose Wall Street career ended with a prison sentence for fraud and racketeering.
                                                Michael Milken in the 1980s
Milken has since moved into the education and childcare business.  His company Knowledge Universe recently sold its early-childhood education arm, KUE, to a private equity firm, in a deal reportedly worth $1.5 billion.
Milken's relationship with Ron Packard dates back to the 1990s, when Milken made him vice-president of his educational investment firm.  Packard is another Wall Street veteran, a former executive at Goldman Sachs.  He is also, according to a recent profile, 'a well-known educator, entrepreneur and visionary'.  He was ideally suited to lead K12 Inc.
Ron Packard (far left), with his son Chase, celebrates K12 Inc.'s listing on the New York Stock Exchange in 2007
Packard's company offers 'a unique set of products and services', including 'curriculum, learning systems, management expertise, logistical systems and marketing'.  Many features of K12 Inc.'s business model are, in fact, common to other for-profit education companies.  The basic features are as follows:
(a) the provision of a 'cost-efficient', standardised service, based on increased student-teacher ratios
(b) the use of information technology both to cut costs, and to open new markets in 'proprietary software [and] learning systems'
(c) the use of a proprietary curriculum, created and owned by the company
(d) a very high spend on marketing and advertising
                                                            K12 Inc. TV ad
What is distinctive, if not unique, about K12 Inc. is its focus on wholly online schools – virtual schools which have no 'bricks-and-mortar' location.  K12 Inc. runs both public and private virtual schools.  In its virtual public schools, according to the company, 'students receive online lessons over the Internet, utilise offline learning materials that we supply, and receive instruction from state certified teachers'.
In her 2014 book Reign of Error, the educational historian Diane Ravitch gives a more detailed picture of K12 Inc.'s model:
Students who enrol in K12 online schools receive a computer, an Internet connection, materials and workbooks.  Their parents are their 'learning coaches'.  Teachers work from their homes or other remote locations.  Teacher pay is low, starting in the low $30,000s, less than their counterparts in traditional schools.  Some elementary-level  teachers manage online classes of 75 children, while some high school teachers may be responsible for more than 250. … Teachers are available on the Internet or by telephone, and some schedule meetings with students when it is physically possible.
Ravitch goes on to point out the obvious advantages of this operating model:
The virtual charters receive tuition payments from the state that far exceed their costs.  Even though they receive less funding per student than brick-and-mortar schools, they still make handsome profits. […] The cost savings are enormous, and the savings go to the schools, not to the taxpayers.
Ron Packard believes that 'kids have been shackled to their brick-and-mortar school down the block for too long', and that 'there's no reason why eventually you can't be educating a billion kids online'.
The US charter schools market and 'cyber-charters'
The rise of K12 Inc. was made possible by the market-driven reforms of US public education which began in the 1990s.  A key element of these reforms has been the growth of charter schools: the publicly funded, privately managed schools which were central to the education policies of both George W. Bush and Barack Obama.  K12 Inc. is the dominant for-profit operator of virtual charter schools, or 'cyber-charters'.  The company has lobbied state legislatures to authorise virtual charter schools and to mandate more online courses (Ron Packard described political lobbying as a 'core competency' of his firm).  Another aspect of K12 Inc.'s growth strategy was advertising.  In 2012, USA Today claimed that, over the first eight months of that year, the firm spent around $21.5 million on advertising.
By this point, according to Diane Ravitch, K12 Inc. had around 100,000 students, across 29 states, enrolled in its schools.  In 2013, the firm took in $848.2 million from its business, with $730.8 million coming from its 'virtual public schools'.  But K12 Inc. was not without its critics.  A 2011 review of research on virtual schools could find 'no evidence … that full-time virtual schooling at the K-12 level is an adequate replacement for traditional face-to-face teaching and learning'.  In the same year, the New York Times asked questions about K12 Inc.'s business practices, claiming that the company 'tries to squeeze profits from public school dollars by raising enrolment, increasing teacher workload, and lowering standards'.
Separate investigations in Ohio and Colorado discovered a high rate of turnover or 'churn' amongst students in K12 Inc.'s schools, and a very low rate of graduation.  Since the New York Times story, concerns have been raised repeatedly in both the national and local US press about K12 Inc.'s modus operandi (see, for example, here and here).  The educational value of online schooling remains in question, to say the least.  Last year, a comprehensive study of virtual schools in the US found an 'overwhelming negative impact on student growth from attending an online charter school'.
Since some states do not allow for-profit entities to run charter schools, K12 Inc. formed partnerships with non-profit charter school operators.  Pennsylvania's Agora Cyber Charter School, for example, is formally run by a non-profit organisation; but its board of trustees contracted out most aspects of school management, including the curriculum, to K12 Inc.  Some observers argue that the company is now adjusting its business model, moving away from managing schools towards licensing its 'digital learning platforms and technology' to other EMOs ( = education management organisations).
Flex Academies
K12 Inc. has certainly been exploring the new growth area in the ed tech market: blended learning schools.  Here online instruction takes place in a bricks-and-mortar location, and is combined with a certain amount of face-to-face or 'in person' teaching.  In 2010, K12 Inc. partnered with the non-profit charter operator Flex Public Schools to set up the San Francisco Flex Academy.  There are now Flex Academies in Pennsylvania, New Jersey, and Minnesota too.  These 'blended schools' seem to have been the model for K12 Inc.'s English academies.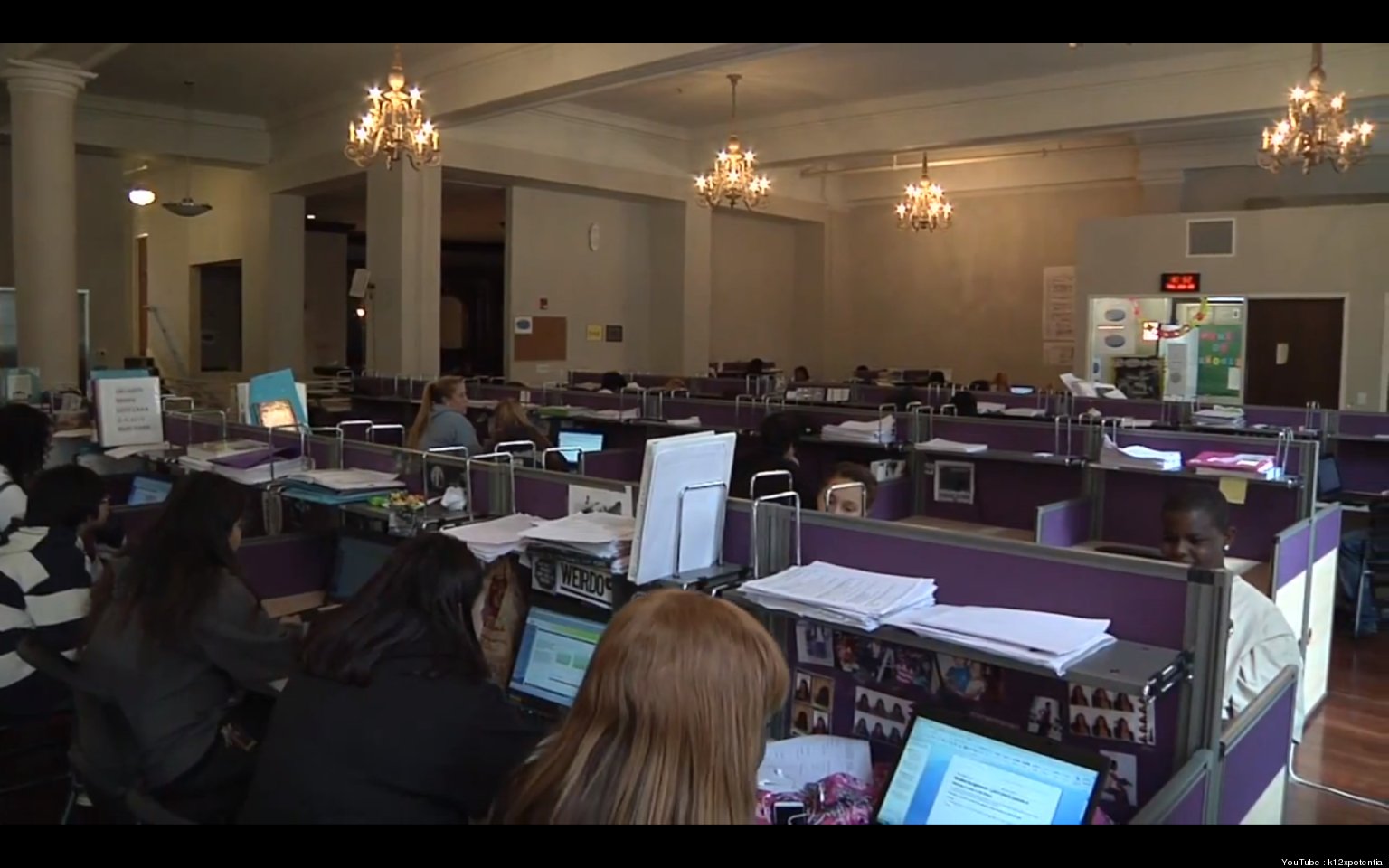 The San Francisco Flex Academy, a 'blended learning school' which opened in 2010 and closed this year
                                       A student works in her cubicle at the academy
The Erudition Schools Trust
K12 Inc. entered the English schools market in 2011, with the foundation of the Erudition Schools Trust.  The trust took control of three schools in the Midlands:  the Charles Coddy Walker Academy (formerly North Walsall Primary School), the Queen Elizabeth Academy in Atherstone, and the Kingsbury School in Tamworth.
                                               EST logo, designed by the PR firm Liquid
Like other academy trusts, the Erudition Schools Trust is a private company limited by guarantee, without shareholders.  However, following the example set by other international firms seeking to run English academies, K12 Inc. has set up a UK subsidiary, K12 Education UK Ltd.  The directors of this company were Ron Packard, Maria Szalay, and John Holdren, with Howard Polsky acting as company secretary.  At this time, Ron Packard was, of course, CEO of K12 Inc.; Maria Szalay was Senior Vice President, Product Development; John Holdren was Senior VP, Content and Curriculum; and Howard Polsky was General Counsel and Secretary.  K12 Education UK Ltd. was incorporated in August 2011.
In December, the Erudition Schools Trust was established.  Its directors were Ron Packard, Maria Szalay, John Holdren, and John Woodward, with Howard Polsky acting as secretary.  In other words, a big chunk of K12 Inc.'s senior executive team, including the CEO, had appointed themselves both as the directors of a non-profit trust, and as the directors of a for-profit company, K12 Education UK Ltd., providing services to the new trust.  There is nothing illegal in this arrangement.
What about John Woodward, the only English person amongst the original directors of the Erudition Schools Trust?  He is the CEO of Busy Bees, the UK's biggest chain of nurseries.  Woodward calls himself 'a big Mike Milken fan'.  Milken's Knowledge Universe owned Busy Bees from 2009 until 2013; Woodward's firm then bought up Knowledge Universe's childcare business in the Far East.  Woodward left the Erudition Schools Trust board after a couple of months.  He was replaced by Karen MacKay, Head of External Affairs at Busy Bees since 2006.  MacKay became the leading figure at EST, which she claims to have built up 'from zero ground'.
A 'holistic, inclusive, personalised and progressive learning culture'
The schools which joined the EST seem to have adopted a 'blended' or 'hybrid' model of instruction similar to that used in K12 Inc.'s Flex Academies.  In other words, computer-based instruction was combined with some conventional teaching.  The schools used a version of K12 Inc.'s copyrighted curriculum.  According to the EST website:
Our online programmes involve students making their way through interactive lessons and activities on the screen, receiving immediate feedback for their work. This approach is supplemented with traditional materials such as textbooks, CDs and videos, with all work and teaching forming part of each student's unique Learning Plan.
The new model was described by Karen MacKay as a 'blended, personalised learning approach'.  EST messaging was nothing if not consistent.  On the trust's website, and on the schools' websites, the words 'pioneering', 'innovative', 'flexible', 'personalised' and 'progressive' are used again and again.
The trust hired a PR and lobbying firm called Liquid 'to introduce it as a new education sponsor in the UK', and to manage the academisation of the North Walsall Primary School.  Liquid's report on its work is fascinating reading.  As well as getting parents, teachers, and unions on side, the company also 'arranged a briefing with the Sunday Times, facilitated a meeting with the Secretary of State for Education, and worked with BBC Radio 4'.
The conversion to academy status was completed by January 2013.  In April 2014, the school was visited by Matthew Hancock MP, then Minister for Skills and Enterprise, who saw 'the blended curriculum and portable, technology-based learning in action', and was impressed by the 'groundbreaking advances made in education technology'.
The Innovation School
In September 2014, the Queen Elizabeth Academy, a secondary school, joined EST.  The trust also took steps towards setting up a new school in Stoke-on-Trent.  The Innovation School Stoke aimed to serve children who are 'struggling to achieve in mainstream schools', for whom EST's 'flexible, innovative approach' was especially appropriate ('their requirements may dictate that learning must take place outside of the classroom').
The trust hired another PR firm, Papillon Communications, to manage the launch of the Innovation School, which was officially opened by Lord Puttnam in January 2015.  According to Papillon, its work in promoting EST's 'holistic, inclusive, personalised and progressive learning culture' was very successful, providing the trust with 'a significant return on its investment'.
K12 pulls out
Interviewed later in 2015, Karen MacKay welcomed the government's targeting of 'coasting' schools: 'EST supports this zero-tolerance approach to mediocracy [sic] and anticipates the government's campaign to drive up standards will work in the trust's favour'.  However, when the Charles Coddy Walker Academy was visited by Ofsted in March 2015, the school was graded 'Requires Improvement'.  The groundbreaking advances in education technology seem to have cut little ice with the inspectors:
Teachers are not always clear about what they want their pupils to learn.  Activities are sometimes too difficult or too easy for pupils.  This causes them to become disengaged in their learning…
In the same month, the Kingsbury School, in Tamworth, became the latest addition to the EST chain.  The school's leadership told students and parents that they were 'delighted' to become part of such a 'pioneering and progressive' multi-academy trust.  But, a few months later, an announcement appeared on the school's website:
You may … be aware that EST is backed by a company called K12, based in the US.  Unfortunately, K12 has informed EST and the board of governors of their intention to withdraw from their arrangement to host EST next year.
The school was now seeking advice from the DfE and Warwickshire County Council.  What had happened?
Improper practices
While EST was building up a chain of schools 'from zero ground', its sponsor, back in the US, was facing a federal lawsuit brought by unhappy investors.  The suit alleged that K12 Inc. was guilty of 'the knowing and/or reckless suppression and concealment of information regarding K12's excessive churn rates, the poor academic performance of its schools compared with brick-and-mortar schools, improper practices at several of its schools nationwide, and enrolment inflation'.  (The suit was settled out of court, and the lead plaintiff agreed to withdraw his claims.)
In the autumn of 2013, K12 Inc.'s stock price dropped drastically, from $38 per share to $18.  The hedge fund manager Whitney Tilson, an active supporter of market-driven education reform, said that his firm was short-selling K12 Inc. stocks.  Tilson claims that many of the company's partnerships with non-profit charter schools, whether virtual or blended, are 'a sham': 'for all intents and purposes K12 controls and operates and profits from non-profit charter schools in blatant violation of most state law'.
In the course of 2014, K12 Inc. lost management contracts, or was threatened with school closures, in five states.  The difficulties have continued.  Just last month, the California Department of Justice agreed a $168.6 million settlement with the company, over alleged violations of false claims, false advertising, and unfair business practices laws (K12 Inc. has challenged the Attorney General's characterisation of the settlement).  This was in relation to the firm's operation of a non-profit network of virtual schools, California Virtual Academies.
The Flex Public Schools may also be in trouble, since two Flex Academies in California have just closed down.  According to a local newspaper, parents of students attending the Silicon Valley Flex Academy were informed of the school's closure by e-mail on 26th July, less than three weeks before the start of the new school year.
'K12 redux'
In January 2014, Ron Packard left K12 Inc. He set up a new, privately-held company, Pansophic Learning, with backing from the global investment firm Safanad Capital.  Pansophic acquired some of K12 Inc.'s assets, including 'licenses to curriculum and technology'.
                         Marketing material for Pansophic Learning LLC
Blended learning will be one focus of Packard's latest venture, which has been described as 'K12 redux'.  As part of its overall aim to 'accelerate the proliferation of high-quality solutions for education', Pansophic will seek to 'optimize the intersection of blended learning and technology-based learning to maximize the learning efficiency ratio'.
Soon after leaving K12 Inc., Packard stepped down from the Erudition Schools Trust board.  He was replaced by Jakki Mathis-Hull, K12's Associate General Counsel.  Packard took two K12 executives with him to Pansophic: Maria Szalay, who had also been a member of the EST board, and Bruce Davis.  All three quickly became the trustees of another English academy chain – but that is another story.
Accounts for the Erudition Schools Trust for the year ending 31 August 2015 state that K12 Inc. had decided to 'withdraw its financial support to the Trust, due to the fact that the Trust has been unable to expand at a rate that makes the central support services required for administering and developing school improvement initiatives financially sustainable'.  In April of this year, the Charles Coddy Walker Academy was transferred to the Academies Transformation Trust.  Last month, the Queen Elizabeth Academy also joined ATT.  Karen MacKay apparently left the Erudition Schools Trust in October 2015.  The Innovation School's website has been deleted.